FieldKo at Dreamforce 2023
Our team at FieldKo is thrilled to have been selected to participate in Salesforce's GenAI Pilot Program and be among the first ISVs leveraging Einstein Generative AI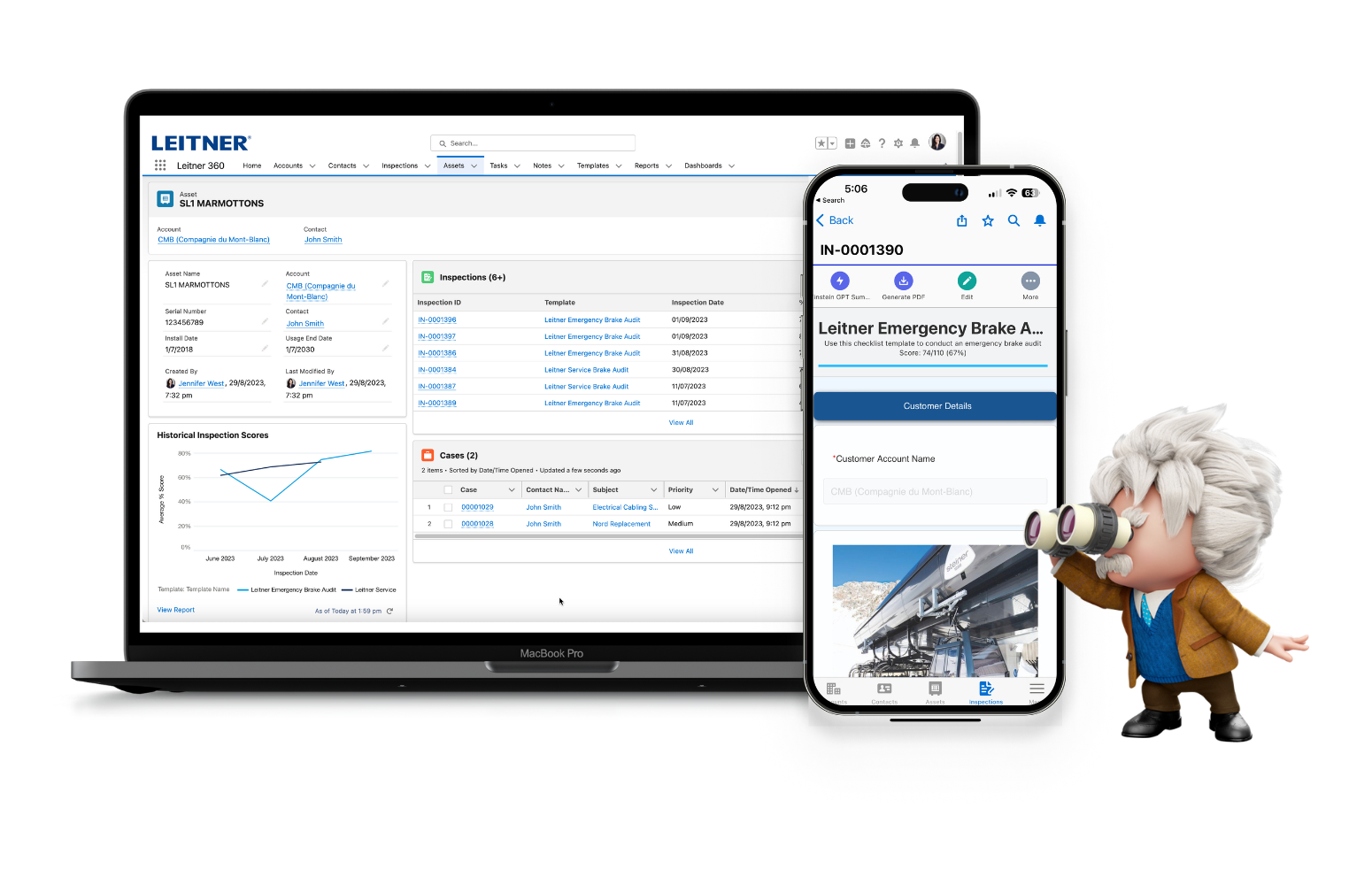 WHAT IS FIELDKO?
FieldKo is a 100% Salesforce native app that helps teams conduct Inspections and perform Assessments powered by Einstein Generative AI
Digital checklists, forms, and surveys
Create checklist Templates for easy user access and scalable inspection management.
Built 100% Natively on Salesforce
Work with any existing Salesforce org, including Sales, Service and Industry Clouds

Powered by Einstein GPT
Einstein GPT-powered insights and recommendations provide fast inspections, valuable insights and real-time decision-making.
Low code/no code solution
With no coding or development experience needed to start using FieldKo, complete inspection management is only a few clicks away.
WHAT EDITION OF SALESFORCE DO I NEED?
FieldKo is works with Sales, Service and Platform Enterprise Editions of Salesforce as well as Field Service Lightning
WHAT CAN THE FIELDKO MANAGED PACKAGE DO?
Installing the FieldKo Managed Package into an existing Salesforce org enables the functionality shown below
Perform Inspections
Leverage pre-built checklist Templates to perform Inspections that can be related them to any standard of custom Salesforce object.
Compatible with both the Salesforce and Field Service Lightning mobile apps.
Conduct Assessments
Use staff and candidate interview Templates to conduct Assessments. These can be related to any standard or custom Salesforce object.

Work with Salesforce Sales, Service, Platform and Industry clouds as well as Experience Cloud.
Leverage AI Generated Tasks & Summaries
Access Einstein Generative AI directly in Salesforce to deliver AI-generated Summaries, Recommendations and Tasks based on specific objectives.

AI recommendations is made available using standard Salesforce Notes and Tasks.
Build and Manage Templates
Create and manage checklist Templates using our Template Builder. Add new questions, checklist sections and GPT-parameters all without code.

Reuse Templates to provide users with quick and easy access to specific business processes directly within Salesforce.
WHAT QUESTION TYPES ARE SUPPORTED?
FieldKo supports multiple question types as standard
All FieldKo questions are reusable components developed in LWC (without any Aura) making them fast to load across desktop and mobile devices using standard Salesforce mobile apps. Custom question types can be developed upon request.
Short of long form plain text
Values that are dates or date and time combinations
Numerical data including percentage and currencies
A list of options that the user can choose from including both picklist and multi-select picklist
Latitude and longitude of the user based on their location
Upload Photos or Files as attachments
Capture signature on glass
Display or update related Salesforce fields
WHY USE FIELDKO?
FieldKo is designed to be easy, flexible and powerful
Rapid time to value

Salesforce Compatible

Easily Configurable

Einstein GPT Enabled
Get started in minutes
Install our app and be up and running quickly. A new installation of FieldKo can be provisioned in just minutes.
Works with your existing Salesforce org
The FieldKo Managed Package can be installed into an existing customer's Salesforce org. This enables customers to conduct Inspections or perform Assessments and relate them any standard or custom object.
Configure using clicks not code
FieldKo is designed to be easy to use. FieldKo customers are able use standard Salesforce declarative low-code tools to configure the solution.
Leverage Einstein GPT to generate Tasks and Summaries
FieldKo comes with pre-built integration with Einstein GPT. This means customers can leverage the power of AI to generate Summaries, Recommendations and Tasks from FieldKo Inspections or Assessments.
What is FieldKo?
FieldKo is a native Salesforce app that helps companies perform inspections or assessments using checklist templates. It can be installed into any Salesforce org as a managed package.
Key Value & Benefits
Eliminate Paper & Spreadsheets: FieldKo improves overall inspection efficiency by eliminating manual paperwork and administrative tasks. Inspectors can quickly and easily capture inspection data using their mobile devices, reducing the time spent on documentation and increasing productivity.

Configurable Templates: FieldKo offers the ability to create and configure inspection templates based on specific requirements. This flexibility allows companies to tailor the templates to match their unique inspection criteria, ensuring that inspections are conducted according to industry standards and regulations.

Capture Files & Photos: The app supports file and photo attachments, enabling inspectors to capture and attach photos, videos, and audio recordings to inspection reports. This feature provides visual evidence and context, enhancing the accuracy and comprehensiveness of the inspection documentation.
Real-time Data Access: The app enables real-time access to inspection data, allowing inspectors, managers, and stakeholders to view and analyze the latest information instantly. This facilitates prompt decision-making, issue resolution, and collaboration between different parties involved in the inspection process.
Analytics and Reporting: FieldKo offers robust analytics and reporting features that enable companies to gain insights from inspection data. Managers can generate comprehensive reports, identify trends, track performance metrics, and make data-driven decisions to improve operational efficiency and address areas of concern.
Why do Customers choose FieldKo?
Customers choose FieldKo to manage their inspections or assessment processes directly on the Salesforce platform. We often win customers that are using an inspection or assessment solution that is not on the Salesforce platform.
What main Use Cases does FieldKo address?
Field Service Inspection Management
Safety and OH&S
Facilities Management
Risk Reduction
Retail Execution in Consumer Goods
Mystery Shoppers
Franchising Standards and Audits
Human Resources Performance Reviews and Career Development
Employee Engagement
NPS and Customer Feedback
What Customer Pain Points do we Solve?
Manual inspection processes involving paper or spreadsheets
Using a 'point solution' that isn't on the Salesforce 'Customer 360' platform
Excessive time, cost and effort associated with manually preparing summaries and recommendations
Who typically uses FieldKo?
Individuals with Safety, Compliance or Risk in their job titles
Head or Senior Managers in HR roles
How much does FieldKo cost?
FieldKo Audit Core Licence from $79 USD per user per month
FieldKo Audit Platform Licence from $49 USD per user per month
What type of Salesforce license does the Customer need?
FieldKo works with Sales, Service, Platform as well as Industry Clouds. FieldKo can be installed in a customer's existing Salesforce org or we can help you set up a custom demo as needed.
ACCESS THE FIELDKO MANAGED PACKAGE
Single app, multiple use cases
INSPECTIONS FOR SALES & SERVICE
FieldKo Inspections for Sales & Service Cloud
Conduct Inspections using configurable Checklist Templates against any object in Sales or Service Cloud

APPEXCHANGE LISTING
ASSESSMENTS FOR HR
FieldKo Assessments for Performance Reviews & Candidate Interviews
APPEXCHANGE LISTING
"The FieldKo Inspection app allows our team of almost 2,000 users to collect over 3 million pieces of site information and drive real business outcomes from data insights each and every year."
"I'd recommend FieldKo to anyone who wants to drive high-performing teams. We've been using the app for over three years, and it's greatly impacted our efficiency, effectiveness, and compliance."
"What I like most about FieldKo is the sophistication of the solution and the ability to tailor the system to our requirements."