The Platform Changing How Teams Inspect and Correct
Powered by GPT AI and Salesforce™, we make it easy for your team to conduct inspections, identify risks, assign corrective action requests, prioritise tasks and manage checklists – everywhere you work.

Meet the app helping businesses inspect and connect from anywhere.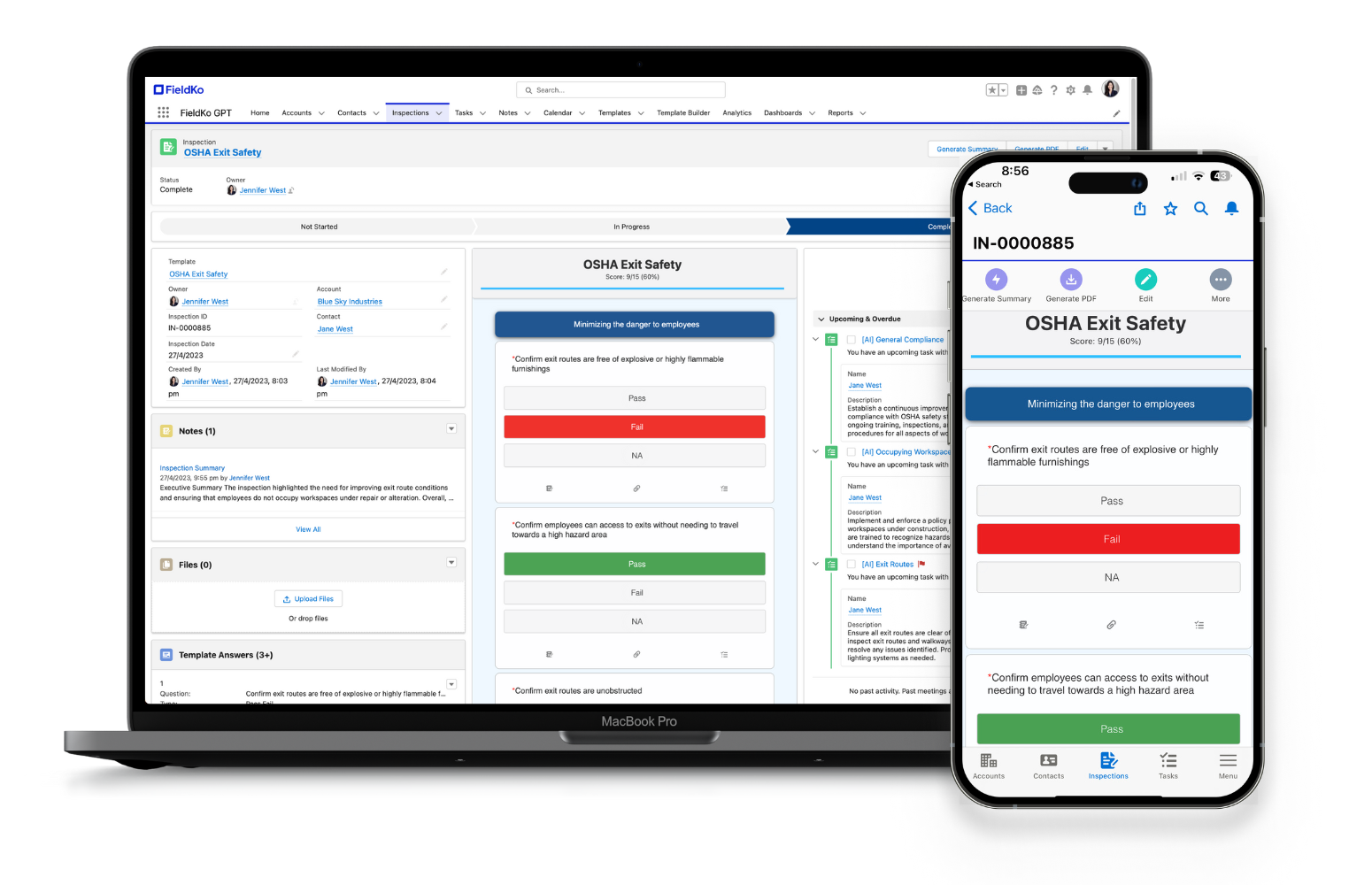 PLATFORM FEATURES
We Help Turn Your Inspections Into Action
Mobile, connected and secure. We provide teams with real-time insights they can trust to mitigate risk and resolve high-priority actions effectively.
In the field, at the office or on the go – FieldKo has you covered.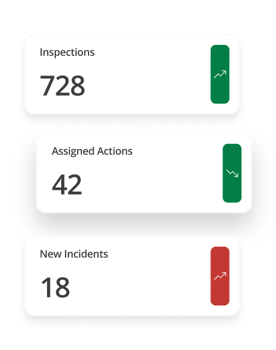 DYNAMIC SOLUTIONS
The Right Tools for the Job
Perform Inspections
Make inspections easy for everyone. Configure questions, tasks, and workflows to create comprehensive Customer 360 views so your inspectors get the job done right the first time, every time.
Resolve Issues
Enable stakeholders to act effectively. Leverage workflows, corrective action plans, and time of inspection flagging features to ensure issues are resolved accurately and efficiently.
Manage Checklists
Use prebuilt digital checklists to streamline data sharing across workflows, creating a secure and scalable data-gathering structure for your business.
Stay Secure
Keep your data safe. Built natively on Salesforce, we enable teams to stay agile and action-minded, knowing critical project information is secure and accessible on the world's most trusted platform.
"The FieldKo Inspection app allows our team of almost 2,000 users to collect over 3 million pieces of site information and drive real business outcomes from data insights each and every year."
"I'd recommend FieldKo to anyone who wants to drive high-performing teams. We've been using the app for over three years, and it's greatly impacted our efficiency, effectiveness, and compliance."
"Fonterra uses FieldKo for customer and team interactions to conduct more than 125,000 surveys and inspections each year. These range from in store pricing, brand execution as well as customer feedback."
WHAT IS FIELDKO?
FieldKo is a 100% Salesforce native app that helps teams conduct Inspections and perform Assessments
Digital checklists, forms, and surveys
Create checklist Templates for easy user access and scalable inspection management.
Built 100% Natively on Salesforce
Work with any existing Salesforce org, including Sales, Service and Industry Clouds

Powered by ChatGPT AI
ChatGPT-powered insights and recommendations provide fast inspections, valuable insights and real-time decision-making.
Low code/no code solution
With no coding or development experience needed to start using FieldKo, complete inspection management is only a few clicks away.
Perform Inspections
Leverage pre-built checklist Templates to perform Inspections that can be related them to any standard of custom Salesforce object.
Compatible with both the Salesforce and Field Service Lightning mobile apps.
Conduct Assessments
Use staff and candidate interview Templates to conduct Assessments. These can be related to any standard or custom Salesforce object.

Work with Salesforce Sales, Service, Platform and Industry clouds as well as Experience Cloud.
Leverage AI Generated Tasks & Summaries
Access ChatGPT directly in Salesforce to deliver AI-generated Summaries, Recommendations and Tasks based on specific criteria.

AI content is made available using standard Salesforce Notes and Tasks.
Build and Manage Templates
Create and manage checklist Templates using our Template Builder. Add new questions, checklist sections and GPT-parameters all without code.

Reuse Templates to provide users with quick and easy access to specific business processes directly within Salesforce.
Turn Your Inspections Into Action