About Us
Welcome to FieldKo™ – the ultimate, all-in-one inspection management platform on Salesforce – designed to simplify your life and keep your business running smoothly.
We're here to turn complex inspection problems into simple real-time solutions, bridging the gap between challenges and results. Whether you're in property management, manufacturing, hospitality, or healthcare, FieldKo has your business covered.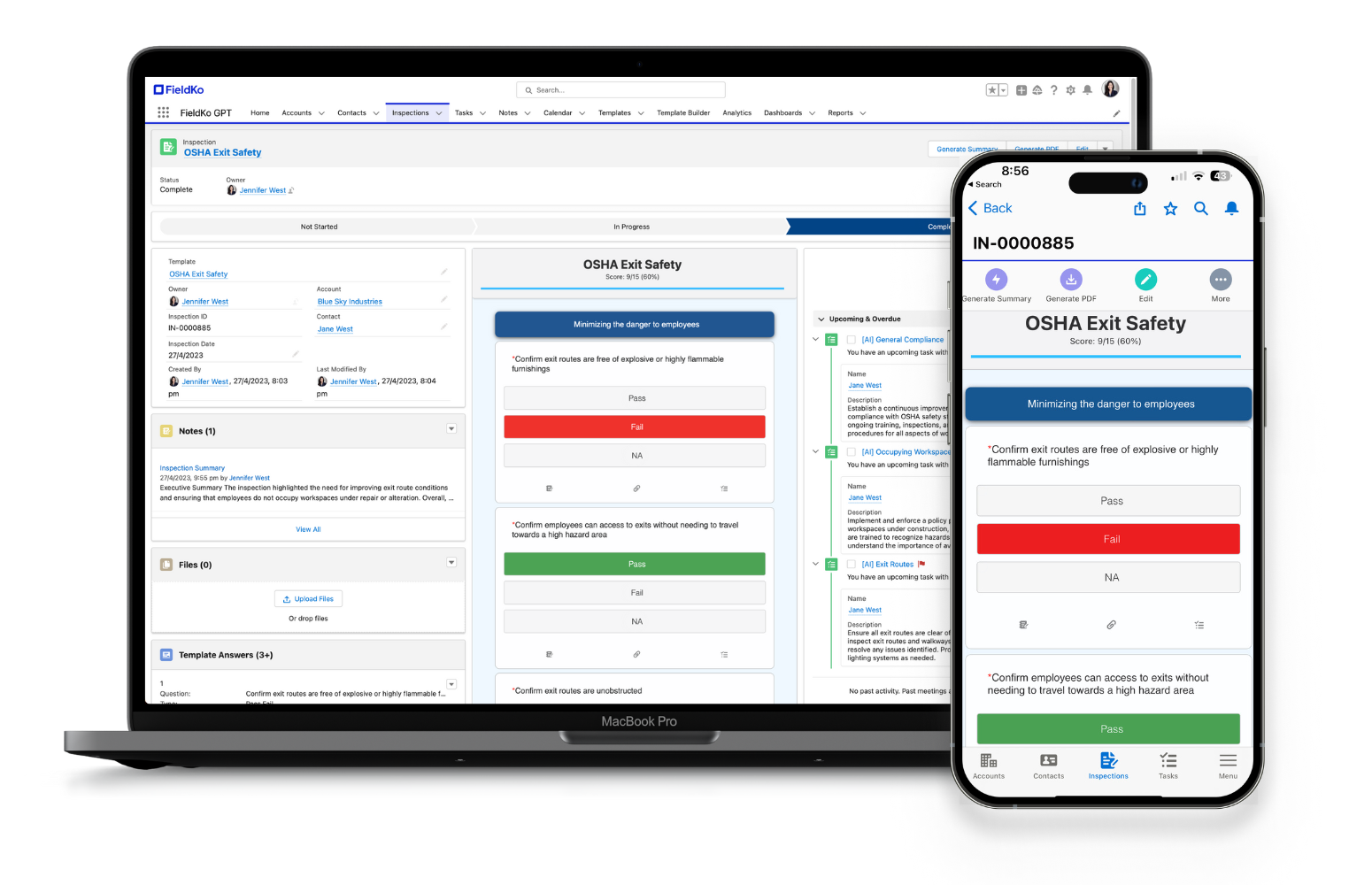 Our Story
Established by a passionate group of industry experts and problem-solvers, FieldKo's mission is to make the complex simple. We understand the importance of streamlining inspection processes and delivering reliable, scalable solutions that businesses can count on. Together, our talented team and leading tech deliver innovative problem-solving solutions that look and feel effortless to the user.
Why Choose FieldKo?
FieldKo was designed to optimize the inspection experience for teams on the go. Built on Salesforce, our platform harnesses the power of AI to deliver transformative inspection management solutions, including:
AI-powered insights and real-time decision-making
Low code/no code implementation
Digital checklists, forms, and surveys
Configurable features for easy adoption across industries
Analytics, reporting, and 'Customer 360' source of truth within Salesforce
Mobile access, connection, and security
We want every one of our customers to experience peace of mind, knowing that their inspection management needs are in the best hands. We're here to make our customers look like heroes on the job and provide innovative solutions that save time, reduce risks, and ensure safety.
A Commitment to Safety & Reliability
At FieldKo, we're safety-obsessed. We understand the importance of thorough inspections and are dedicated to providing unparalleled safety solutions. With a commitment to innovation and expertise, we continue to strive for excellence in streamlining inspection processes, guaranteeing data accuracy, and delivering the tools businesses need to succeed.
Experience the FieldKo Advantage Today
Let's turn your inspection problems into easy answers. Connect with our dedicated team today, and discover how FieldKo can power your business forward, keeping you safe and informed at every step.
Turn your inspections into action
Schedule a call with our team to learn how we can help with your checklist requirements
BOOK A CONSULTATION