HEALTH & SAFETY
Maintain Safety Standards With Our Inspection Software Solution
FieldKo helps you proactively identify and manage issues before they occur and reduce the risk of workplace accidents and incidents.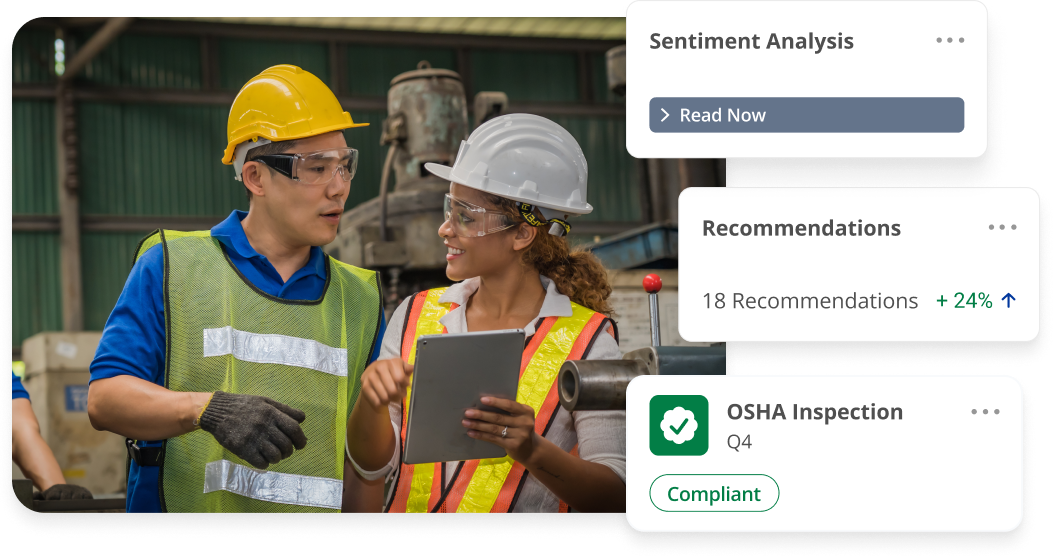 DIGITAL CHECKLISTS
Make your workplace safer
Foster a safer workplace environment by using digital checklists that drive safety-related activities including Occupational Safety and Health Administration (OSHA) inspections, Job Hazard Analysis (JHA), Corrective and Preventative Actions (CAPA), safety walk-throughs, workplace safety trainings and incident reporting.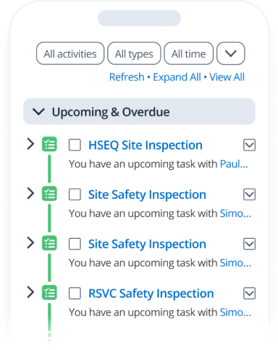 WORKER SAFETY
Reduce workplace injuries
Streamline workplace safety for your team with digital inspections that prevent workplace injuries. Ensure your every member of your team adheres to proper protocols and takes necessary precautions.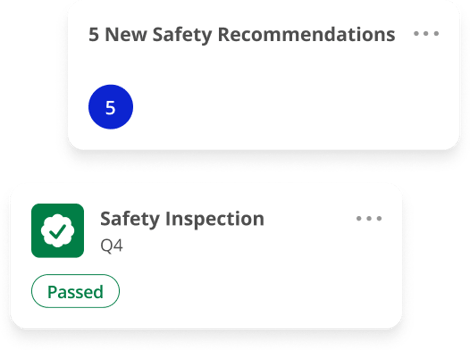 WORKPLACE RISKS
Identify issues before they occur
FieldKo's real-time analytics highlight risks and other potential issues that may lead to workplace incidents. Enable your entire team to report issues and address them by assigning actions immediately.
FIELDKO HEALTH & SAFETY INSPECTIONS FAQ
Got questions?
How do safety professionals and inspectors use FieldKo?
FieldKo is a digital tool used by safety professionals and inspectors to conduct safety inspections and ensure compliance with safety regulations and best practices.
How does FieldKo work?
FieldKo allows users to create custom inspection checklists, perform inspections using a mobile device or tablet, and generate reports with detailed insights and analytics.
What are the benefits of using the FieldKo app?
Benefits of using FieldKo include improved safety compliance, increased efficiency, reduced risk of workplace accidents or incidents, and enhanced communication between team members.
What features should I look for in a safety inspection app?
Important features to look for in a safety inspection app include customisable inspection checklists, real-time reporting and analytics, photo and video capture capabilities, and mobile accessibility.
Is FieldKo easy to use?
Yes, FieldKo is designed to be user-friendly and intuitive, with simple navigation and easy-to-understand features.
Can FieldKo help with regulatory compliance?
Yes, FieldKo is designed to help businesses comply with relevant safety regulations, such as those set by OSHA or other regulatory agencies.
What types of inspections does FieldKo support?
FieldKo can support a wide range of safety inspections, including workplace safety inspections, equipment safety inspections, and safety audits.
Is FieldKo customisable?
Yes, FieldKo offers customisation options, such as the ability to create custom inspection checklists, add notes and comments, or tailor reports to specific requirements or audiences.
"What I like most about FieldKo is the sophistication of the solution and the ability to tailor the system to our requirements."
Turn your inspections into action